Planting-Easter Sunday-2018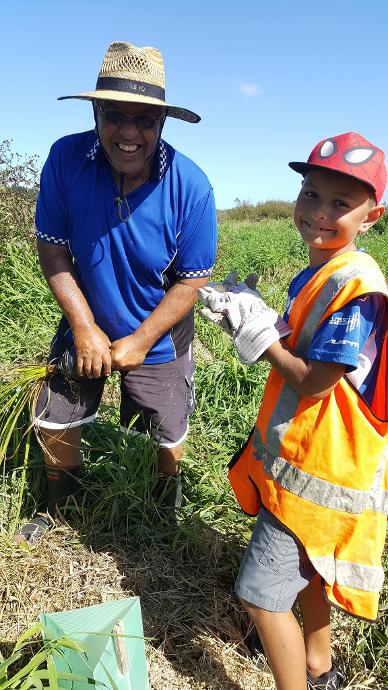 Trustee Kim Taylor with his moko Israel
The day went fantastically and planting was fast. All our trees went into the ground in less than an hour. (Thank you Morgan for digging all the holes.)
I want to thank everyone who came, many hands made light work and we hope everyone, especially the kids enjoyed themselves.
Whanau came from all over the motu to lend a hand.
Our day started at around noon with a cuppa, cake, fried bread and a Health and Safety presentation given by Morgan from the department of Conservation.
Every adult was given a child that they were personally responsible for throughout the planting and all the children were decked out in safety vests, gloves and lathered up with sun block.
Luckily we had all taken the test for Railway safety at our previous planting-which is essential-so we didn't have to do that again.
The planting took an hour and then it was back to the whare kai for a lovely shared lunch and a short korero about future plantings and projects.
We cleaned up and were out shortly after three.
It is always a great day when whanau, kai and working together toward a goal is involved.
Pictures from the Day
This is a picture from our last planting.
I have to say that we missed our trustee Willie today, he was always enthusiastic, ready, willing and able.
The last time we talked was about future plans for our project and how much it meant to him.
He was in everyone's thoughts as we did our mahi.