Accounts and Taxes
Johnny, our chairman met with Brenda, the Accountant ,preparing our financial statements, and they are currently being prepared for submission to IRD. He will send them to all the Trustees and sign them off for the Trust before submitting to IRD.
Election of new Trustees
(Chair) Johnny McGregor, Te Kenehi Teira and William McGregor have to be replaced as trustees so there will be an election.
New Chair-person
A new chair for the Trusts will be elected
Dividend payments to owners
Our treasurer Nina McGregor and Chair Johnny McGregor have run into major issues with the bank because of the new amendments to the 'The Anti-Money Laundering and Countering Financing of Terrorism Act 2009'.
This act designed to help detect and deter money laundering and terrorism financing but what it seems to have done to our Trust's account is make it more difficult to make the payments and put an unfair burden of paperwork on us to prove that, as an entity, are legitimate. This has led to many hold ups with the dispersal of funds.
Until the Trust voted to make a dividend payment to owners there wasn't a lot of movement in our bank account. Basically the only payments being made were to the accountant to prepare the accounts and taxes and payment for the obligatory advert for the newspaper to publicise the next meeting.
We did not have automatic payment facilities as we didn't need it. Now that we do, to pay from our bank account directly into another, the bank has asked for more documentation abut the origin of the Trust before it will allow us that facility. This information has been supplied to the bank on more than one occasion.
When Covid lockdown hit this matter had not been resolved so the payments were put into stasis. Now hopefully this can be fixed and we can move on.
Judiciary Review
The trust had a Judiciary Review due in April this year. The Trust is ready for any review and is waiting for notification from the Maori Land Court to find out when this will be happening.
Access to our Land
Our chair Johnny McGregor has been in contact with KiwiRail for access to our Land to plant. This has not yet been resolves as we are waiting for them to reply.
Plans for the future.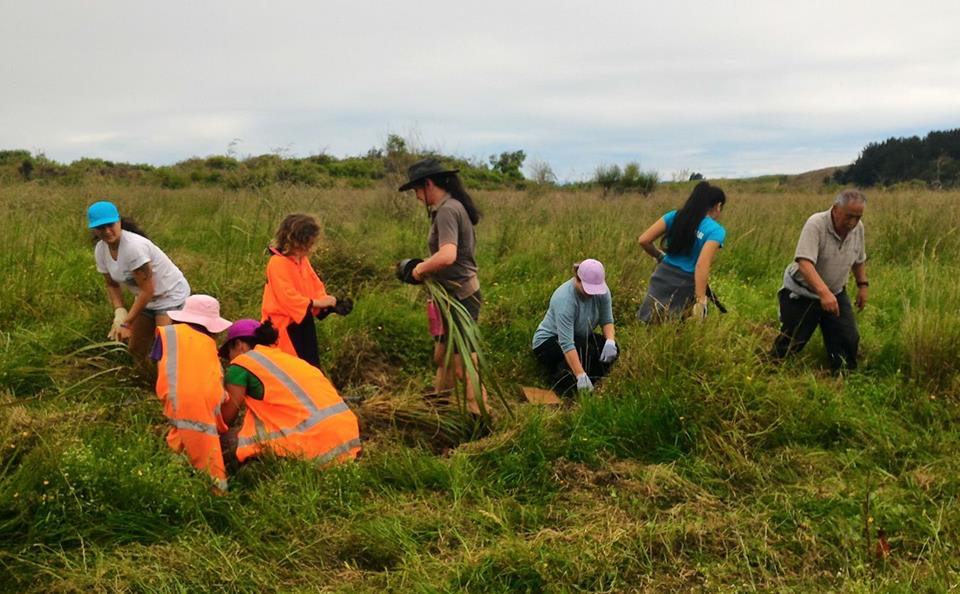 Covid Lockdown from Trustee Kim Taylor
Wow. Covid 19 and Level 4. Sounds like a spy movie now eh.
We had not long arrived back from our holiday in Rarotonga when level 4 hit us. I had no time to stock up on toilet rolls, flour or Foxton Fizz for that matter. But we did have a full freezer of kai and enough in the cupboards for our small bubble to get by. It's amazing what you can do without when you have to.
I got through the boredom of staying home with some home maintenance jobs that I had put off and put off due to being too busy with other stuff. Lockdown left me with no excuse and nowhere to hide so, it was head down and get on with it.
I must admit, it is good to get jobs done and out of the way. Our home became the place of new recipes to try, cakes to bake a food heaven of sorts. I didn't do too bad with the scales though. I pretty much kept the same weight right through out.
My wife, who is usually a social butterfly refused to go past the front gate so I had to go for the weekly grocery trip into town. Cabin fever can do strange things to you. Never before had I been so excited about going to town just to buy our weekly stores. Home schooling kicked in about midway level 4.
We have our 10 yr old moko living with us so, I had to play teacher. I lasted A day. I sent his principle a text and asked for stress leave and a raise please. He said no to both lol. We finally got into a "Sort of" routine with a mixture of official school stuff and off the cuff home skills as well. I thought we did pretty well actually.
I guess living at Foxton Beach across from the estuary and river mouth with great views and with walking and bike tracks close by made life easier to cope with for us.
No complaints really. Like everyone else, we survived and, we will carry on the best we can. That's what we do eh. Maybe when this mongrel Covid thing has finally been dealt with we can have another get together at our kereru Marae. Share some kai. Hug each other, have some laughs and give thanks we are still alive. In the mean-time.
God Bless whanau. Stay safe and stay well.
Big Aroha from me and my family. KT.